Our Essence
Global FC exists to bridge diverse cultures to come together, forming just communities where all are free to be fully-known and fully-loved in pursuit of their God-given purpose and potential.
Mission: Global FC uses soccer as a vehicle for transformative impact.
We support under-served youth and families with the tools to overcome obstacles to success by providing resources, opportunities, and relationships towards a brighter future.
Our holistic approach harnesses the power of relationships to reduce youth violence and family conflict, strengthen communities, inspire academic success, promote health and wellness and to create mentorship chains.  We strive to promote a culture that emphasizes unity in diversity, compassion, love and excellence.

01. We promote an environment of reciprocal cultural exchange, cultural humility and mutual respect.
02. We positively engage in the Global FC culture of collaborative community.
03. We model a positive, can-do attitude, especially while navigating unforeseen challenges.
04. We embody and demonstrate enthusiasm for the Global FC vision and purpose.
The standards of operation are built around three pillars:

Futbol:  The highest level of training will be provided by qualified coaches and trainers who are particularly sensitive to the needs of youth.
Faith: Organization's core values and strategies will be operated on ethical principles which come from an underlying Christian Faith. All involved in the programs will operate under a code of conduct which aspires to the highest level of morals, integrity and compassion for the diverse ways we all live in the world.
Future: Each youth in the program will be given maximum opportunity to develop their life-plan which will include; opportunity in sports, monitoring of education, guidance through mentoring, goal-setting, and post-academy support.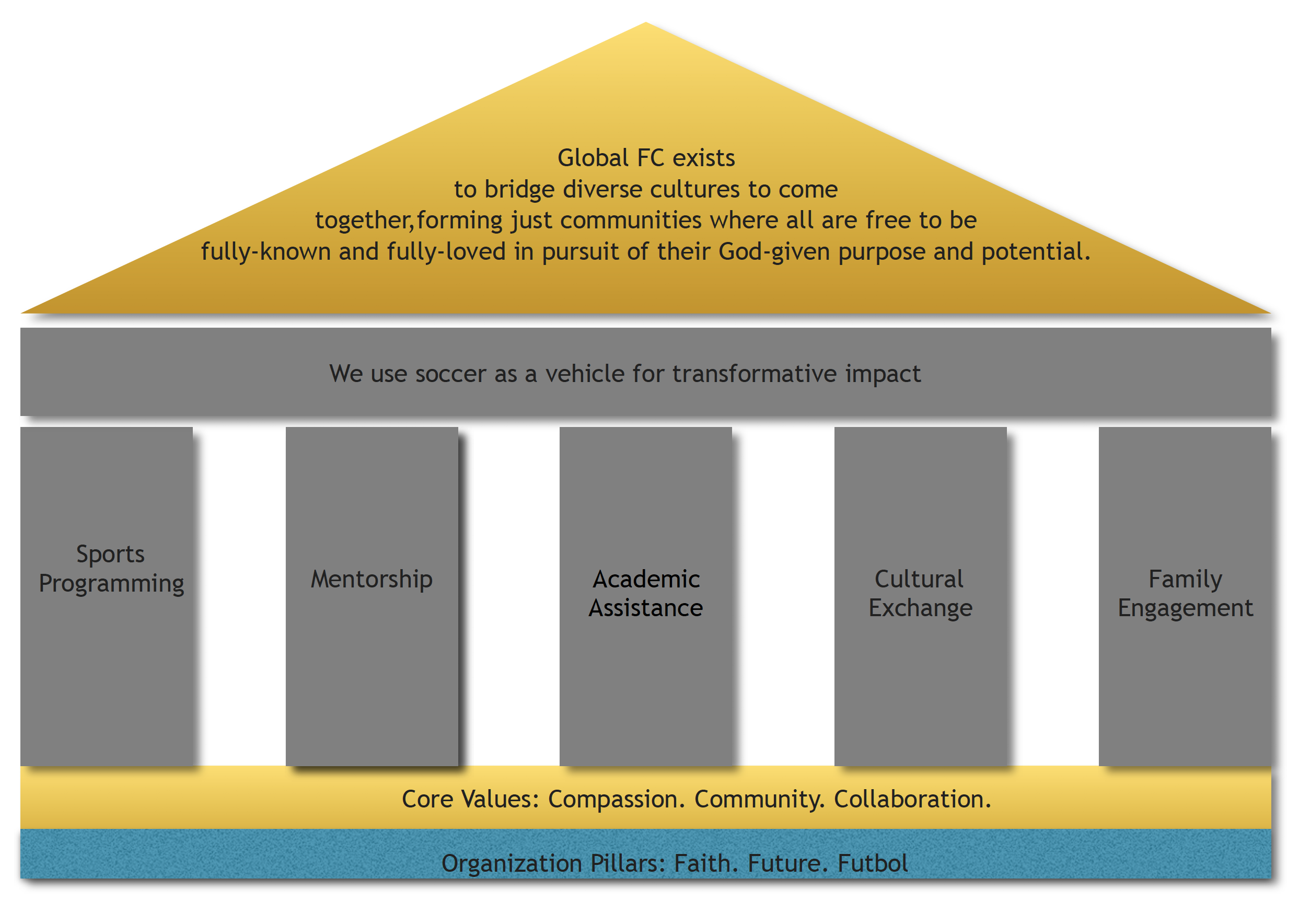 Learn more about the fundamentals of Global FC.